Alright, I promise that this will be the last "I moved!" post for a while, but what can I say? I'm excited for our new space!
ICYMI (which I doubt you did, I haven't shut up about this!), we moved across town from a two-bedroom apartment into a four-story townhouse. We now have a lot of extra rooms to decorate, and I'm looking forward to being able to test out some new home decor ideas and customize our home so that it suits all of our needs.
I will 100% be working with Havenly to design some of these new rooms. While we have a lot of space, we are in a townhouse, and some of the rooms are a little long, narrow and awkwardly shaped. Placing furniture in these rooms has proven to be a bit difficult — that's why we're consulting the pros so that they can help us make the most out of our space.
I've been living on Pinterest these last few weeks, and today I'm going to share some design inspiration for our new space!


New Home Decor Ideas
For the first time in my post-grad life, I've had enough space in our residence for a kitchen table. I'm excited at the thought of being able to properly eat meals at a table rather than on our couch!
We have enough room in our kitchen for a table that seats six, plus we have some counter stools for our kitchen island which will provide even more seating. I'm hoping to throw a ton of dinner parties once we finish decorating the space and entertain our friends as much as possible. I'm not sure if I want to go for a round or rectangle table, but I envision our decor being light, airy and a bit glam.
I've had my trusty, dark grey sectional for years now. While I absolutely adore it, II want to switch things up for our new living room. We plan on leaving it in the basement and opting for a lighter couch for our "formal" living room on the second floor.
I bought my sectional when I was 24, and I went with a darker fabric since I didn't trust myself with spills, to be perfectly honest. I've always liked the look of a lighter couch more, however. I haven't spilled anything on that sectional in the five years that I've had it, and we need a smaller sofa for our living room anyway, so it's time to retire it to the man cave.
I can't wait for a brand new living room look — I'm envisioning something a lot more light, airy, and I plan on having some fun with prints and patterns in the new space.
The one space I'm super excited about? My future cloffice, of course! I'll be taking over the 4th floor of our house and turning it into my office/closet.
Tom and I used to share an office, and it was, well, kind of annoying. Between all of the PR packages I received and all of his photography equipment, we didn't have a sound organization system. I'm excited to have an office space to myself, and I can't wait to start building my new, custom closet in the room as well. We'll most likely work on this project last since I'm trying to finish our kitchen/living room first, but I'm looking forward to eventually setting up the cloffice of my dreams.
Tom and I moved in together last year, but I never had the chance to update our master bedroom. We had a full-size bed up until we moved out. In fact, it was the exact same setup that I had in my Arlington apartment: very pink, glam, and girly. I got a king size mattress right before we moved, but we decided to wait to set it up in the new space since our move date was quickly approaching.
I was able to move my old bed into our guest room, so our visitors will still be able to enjoy the super girly bedroom decor. We're starting from scratch with our master bedroom, and I want to make the decor a bit more neutral in this space to fit both of our tastes. Can't wait to see what we end up with!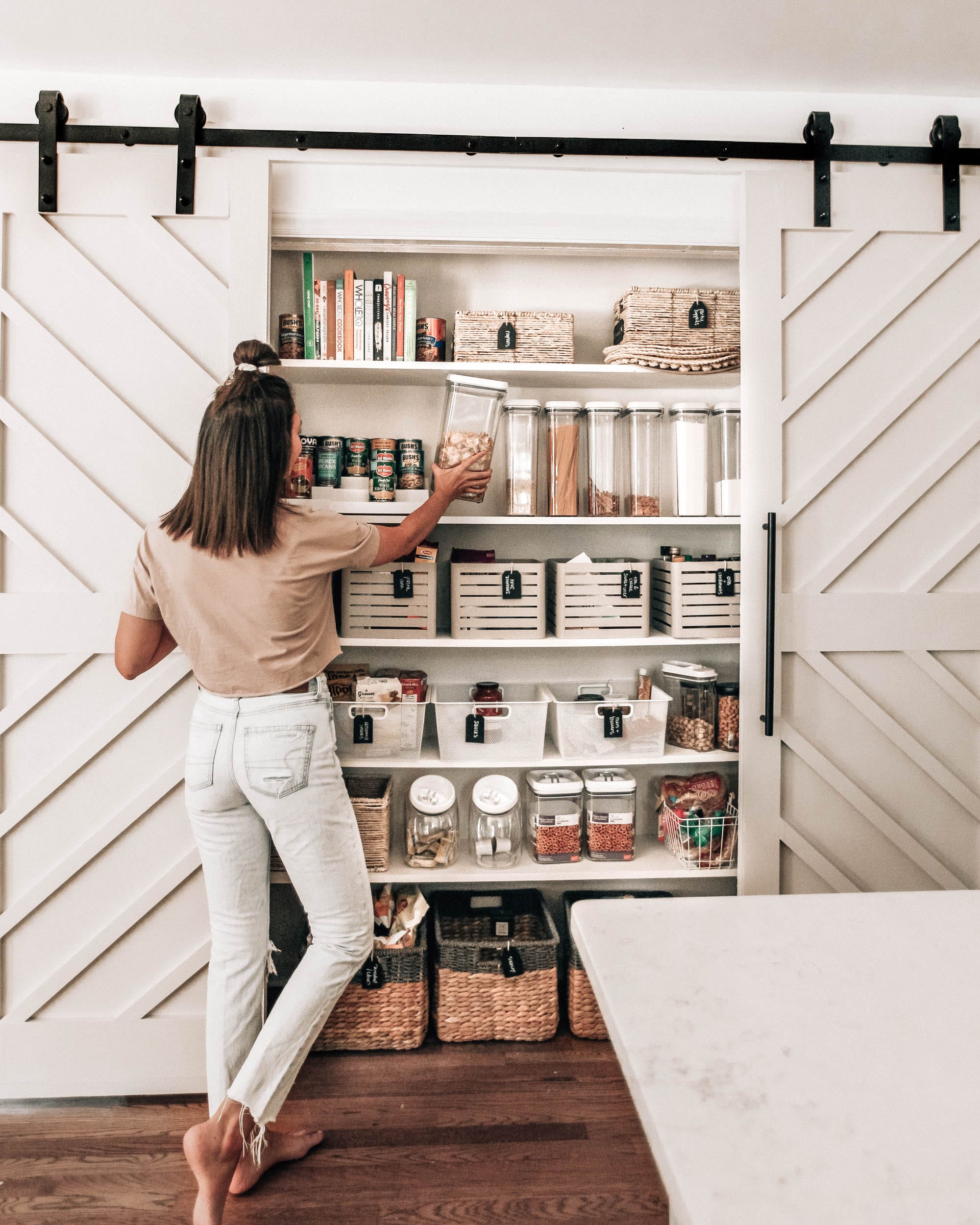 Ok, so this isn't precisely decor per se, however, when Shelby revealed her newly organized pantry earlier this year, I was very inspired to switch things up and give my pantry some TLC. We had a huge pantry in our last apartment, but it was still a hot unorganized mess. Our new pantry is about the same size, so we'll still have plenty of space for our food, but I want to make it more aesthetically pleasing and organized.
We still haven't packed away all of our food yet, and before I start placing things in our pantry, I want to start off on the right foot and buy some containers and baskets for the pantry.
Moved into a new space recently? Let me know in a comment below what new home decor ideas you'll be trying out!