happy thanksgiving everyone! i have plenty to be thankful for and am truly blessed to begin yet another holiday season with the best friends and family a girl could ask for. as we are now approaching the hectic holiday shopping season, it seems that there's no better time than to post my holiday wish list! (hint hint: my friends and family who might be reading this, take note)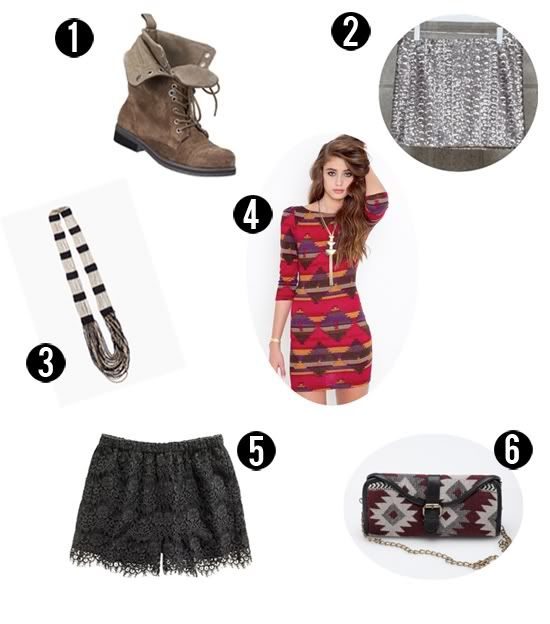 1. Binley Bootie, Nine West, $79.50
2. Silver Sequins Mini, Mikkat Market, $45
3. Cleo Beaded Necklace, Nasty Gal, $30
4. Indian Summer Dress, Nasty Gal, $58
5. Flowerlace Shorts, Madewell, $88
6. Raja Tribal Folded Clutch, Need Supply, $68
while i still love the classic holiday staples of anything with sequins, bling, or lace, this season i'm definitely getting influenced by the tribal trend. the indian summer dress and raja tribal folded clutch are bold statement items that will ease into my wardrobe effortlessly. also, with this ying-yang type of weather that richmond has been experiencing the past few months, i'm sure the shorts will work for the rest of the season with a chunky sweater and tights.
here's my early holiday gift to you. WZRD, a collaboration effort between kid cudi and dotdagenius, has made their first single available for download. while the album doesn't come out until january, get a sneek preview now and let me know what you think!
here's to a fabulous holiday season!