TGIF! I don't know about you, but I'm getting incredibly excited for New Years Eve! It's one of my favorite holidays ever because it's the one night of the year when you can dress in head to toe sequins and nobody can judge you. I also love seeing people dressed up in their personal finest.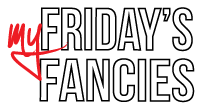 Yet again, I've linked up with AV over at Long Distance Lovin' for Friday Fancies! This week, we put together a fabulous New Year's look. While all over sequins are great, I'm loving the pop of shimmer and color in this ASOS dress. The cutouts are super sexy yet classy as well. Pair some sky high heels and some sparkly accessories, and you're ready for the ball to drop!
P.S. My apologies, I don't have access to Photoshop this week so this Polyvore image will have to suffice!